In the search for a new accounting office in Atlanta GA, keep in mind your own business purpose, goals, and objectives. You need to maintain your business and make sure that your accountant will support you in your business intentions. If you feel an accountant doesn't agree with your financial plans, you need to keep looking to find an accountant who will create a financial plan made to custom-fit your business.
How to Make Accounting Work for You
You shouldn't have to babysit or bend over backwards to get things done. Accounting should be a friendly, personable experience. If you're struggling to put things together, you should feel comfortable reaching out to your accounting office in Atlanta GA. Before the year ends, you should speak with your accountant and discuss their recommendations for the coming year. Don't wait until halfway through the year to make decisions such as big purchases or building new locations. These things should be well thought out and planned months, if not years in advance. This experience will help you ease into accounting services with the best in the industry.
Speaking Candidly with Your Accounting Office in Atlanta GA
Learning to talk about your business, expectations, and concerns with your accountant can be a valuable skill. Instead of just assuming that you will receive help on certain topics, you should ask and discuss these questions with your accountant upfront. If you decide to speak openly about your business, then you'll be much more likely to find out if your accountant can build the custom-fit plans you need.
Crack Down on Excess Spending
Your small business can't afford to have to burden overhead expenses. If too much money starts flowing out of the business, then you could experience negative cash flow. Don't let these types of problems continue. Instead, together with your accountant, you can put together a plan that will help you and your business. This will help you take care of any overhead issues and streamline your administrative process.

Zero Accounts Receivable Possible with your Accounting Office in Atlanta GA
There is a real struggle dealing with clients who decide that they don't want to pay. You could end up waiting weeks or even months before receiving any sort of payment. Instead of hoping for the fulfillment, find the right people who can help you get this sorted out. With accounting professionals always by your side, your trusted CPA and business advisor can point you in the right direction. They will know of which resources can help you tackle this ongoing problem, one step at a time. Don't worry if you aren't understanding everything, all at once. Solve problems and get paid simultaneously.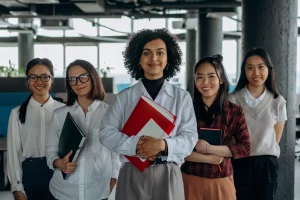 Staying in Sync with Your Accountant
Constant communication is key to the success of your professional relationship with any CPA or accountant. When you decide to make changes to your business, you should always reach out to your accountant. Whether buying new assets, closing out liabilities, or anything in between, they can give you an opportunity to keep moving forward.
CPAs and Accountants Take Time to Serve the Community
More than just business advisors and tax professionals, CPAs are active in their communities. During the month of August, the Georgia Society of CPAs (GSCPA) partnered with Feeding Georgia, a humanitarian aid organization. Together, they raised a total of over $372,000 in a competition between 70 accounting firms across Georgia. This amounts to over 1.49 million meals, directly feeding the individuals and families who are dealing with economic displacement.
In response to the overwhelming support from the GSCPA, Danah Craft remarked, "Thank you to the Georgia Society of CPAs, every participating organization, and the passionate individuals who made the 9th Annual Georgia Accounting Food Fight a success." Small business owners, self-employed accountants, and accounting departments all contributed to this accomplishment.
What To Expect From Your Accounting Office in Atlanta GA?
As a small business owner, you may be concerned about expectations for a new accountant. Whether or not you have used CPA services before, you should always think about what to expect. The accountant, they are there to help you, but only as much as you ask. If you leave out important details, questions, or plans, then they will be limited in their ability to meet your needs. Don't go in with an expectation they will read your mind. Instead, make sure that you have clear conversations about what you want to accomplish, and how the accountant will help you in the process.
Becoming Familiar with Accounting Terms
In your first few meetings in an accounting office in Atlanta, GA, you may be confused by some of the jargon or terminology that is commonly used. While it takes years to understand every concept in depth, here are some frequently used terms that you may find useful in your conversations with an accountant.
First, you should study a profit and loss statement. This type of report provides key insights about your business and gives insights into your spending and productivity relative to your income. The profit and loss statement may be set at custom terms, meaning you can compare monthly, quarterly and yearly performance.
Second, understand how to read a balance sheet. These reports are a summary of your assets, liabilities, and equity within your business. Keeping a close eye on your liabilities will help you stay on track as you maintain a good reputation with your creditors. Don't let things get too out of hand, otherwise, you may have to downsize or suddenly shift gears.
Third, know the difference between a limited liability company, or LLC, and an S-corporation. Both of these are filings with your company. Becoming familiar with these can help you determine what kind of business you are running. There are tax benefits unique to each type of entity, and you should consult with your accountant to learn about each opportunity. They can help you build a custom plan to suit your needs.
Wrap Up
Working closely with your accountant, you can make an industry-exclusive plan optimized for growth. Your business plan can help you reach peak performance in little time at all. Staying consistent with your plan every day is a surefire way to experience rapid expansion while maintaining a solid reputation among your clients and customers.